Santander's landmark new workplace in Milton Keynes, Buckinghamshire has received planning permission. Proposed by global developer Osborne+Co and designed by FDP's sister company, LOM architecture and design, the new Digital Hub will be a centre for digital banking innovation that nurtures wellbeing and collaboration. The project will also include a range of new public amenities.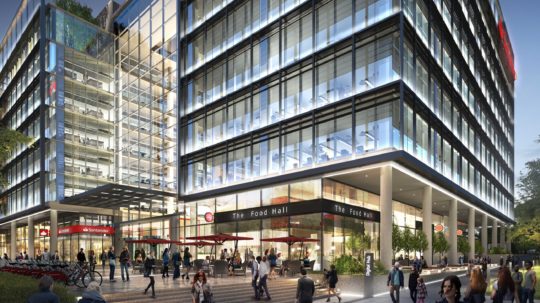 The Digital Hub is a response to the digitalisation of the banking sector and is part of the bank's strategy to adapt to changing technology. It will bring together Santander's employees, who are currently spread across four offices, providing them with an enhanced working environment. The eight-storey tall building will contain 5,000 workstations spread across 37,000sqm of open plan workspace.
The hub is designed to help connect the bank with the community. It will provide publicly accessible retail, food and beverage space, auditorium, a community hall and co-working space.
It is designed to achieve a BREEAM 'Excellent' rating for its environmental sustainability performance and a WELL 'Gold' Certification, which is a measure of the building's impact on health and wellbeing.
Richard Hutchinson, director at LOM, said: "Santander's Digital Hub is at the forefront of workplace design, providing employees with high quality facilities within an environment that supports collaboration and wellbeing. The scheme marks a paradigm shift in how corporate workplaces can operate. This community-centric building is designed to welcome and connect with local people and visitors who will be able to access a range of amenities."
The project team comprises global developer Osborne+Co, architects LOM architecture and design, landscape architects Murray Associates, engineers WSP, project and cost managers Turner & Townsend, planning consultants Deloitte and lighting designers Lightivity.
Construction is expected to start on site in October 2019. The Digital Hub is anticipated to open in 2022.