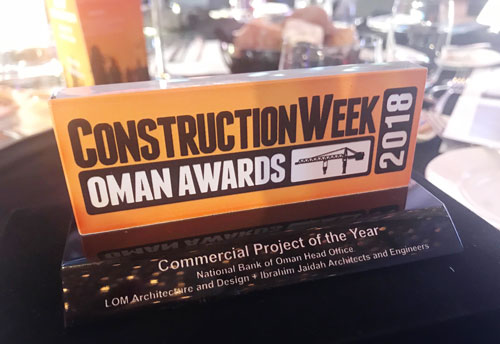 National Bank of Oman's (NBO) new headquarters designed by LOM architecture and design, FDP's sister company, was Highly Commended at the Construction Week Oman Awards 2018 in the Commercial Project of the Year category.
The event, which took place at the Grand Hyatt Muscat hotel on Monday, 12 March, recognised and rewarded a host of companies and individuals from across the sultanate's construction community. The 13 award categories were designed to celebrate individual excellence, corporate prowess, and project success demonstrated during the past 12 months.
NBO's new head office is a contemporary building inspired by Oman's landscape, topography and traditional architecture. The building is rotated on its site in order to face the Grand Mosque and mountains, creating an accessible pedestrian plaza as a new public space for staff, visitors and the community. The central atrium – inspired by the form of Oman's wadi gorges – delivers a series of dramatic internal spaces which balance public access with security requirements to create a semi-public event space. Integrating native planting into the façade and public realm means that the building will evolve over time and become part of the future landscape of Muscat as the city develops.
LOM's headquarters for National Bank of Oman is one of many prestigious international head offices the architecture and design practice has completed which includes HSBC Dublin and Commercial Bank Plaza.